Faux Fur Leg Warmers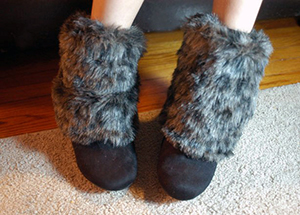 On my first visit to the Playa I wondered, "Why the fake fir leg warmers on women?" I have since figured it out:
It usually gets very cold at night and some women don't wear much else, so it helps them stay warm. Some are thigh high.
In bright colors, they look incredibly cool as accessories.
These things can help keep the Playa dust out of your shoes or boots.
I have seen light-colored leg warmers lit up with LED lights at night to help with visibility.
This easy tutorial from Holly Mann should give your some great ideas.