EL Wire and Leather Necklace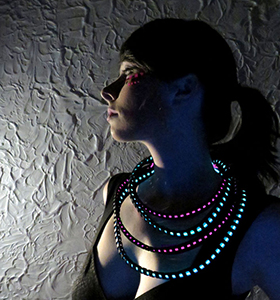 Electroluminescent wire, also called EL wire, is a favorite material at Burning Man. It can be finicky to work with and often frustrating to get just right.
But Mikaela Holmes is a master at using the material. Here she gives a tutorial for this amazing necklace that should weather the most brutal conditions.
She makes costumes and accessories for burners all over the world. Be sure to check out her website, MikaelaHolmes.com.